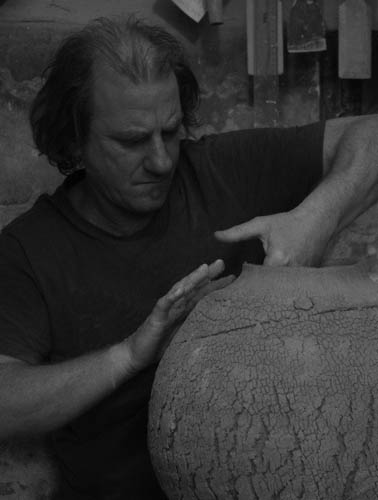 Terry Davies. Biography
Terry Davies is an English artist whose passion for ceramics began when he was very young. He has been living and working in Italy since 1998 and is a founding member of the Italian ceramics association Arte della Ceramica. Terry has exhibited in several solo and group exhibitions all over the world. Some of his pieces are in private and public collections such as the Ceramics Museum of Faenza and the International Modern Art and Design Museum of Munich.

His tea bowls and vases are all stoneware, high temperature ceramics. The ash glazed tea bowls are fired in a wood kiln and his textured stoneware vases are from a single chamber gas kiln.The texture technique that he developed has been named in Italian "pelle d'elefante" (elephant skin). These pieces are thrown, but are pushed outwards while they are being made, to crack the surface; they give the feeling of dry burnt earth.