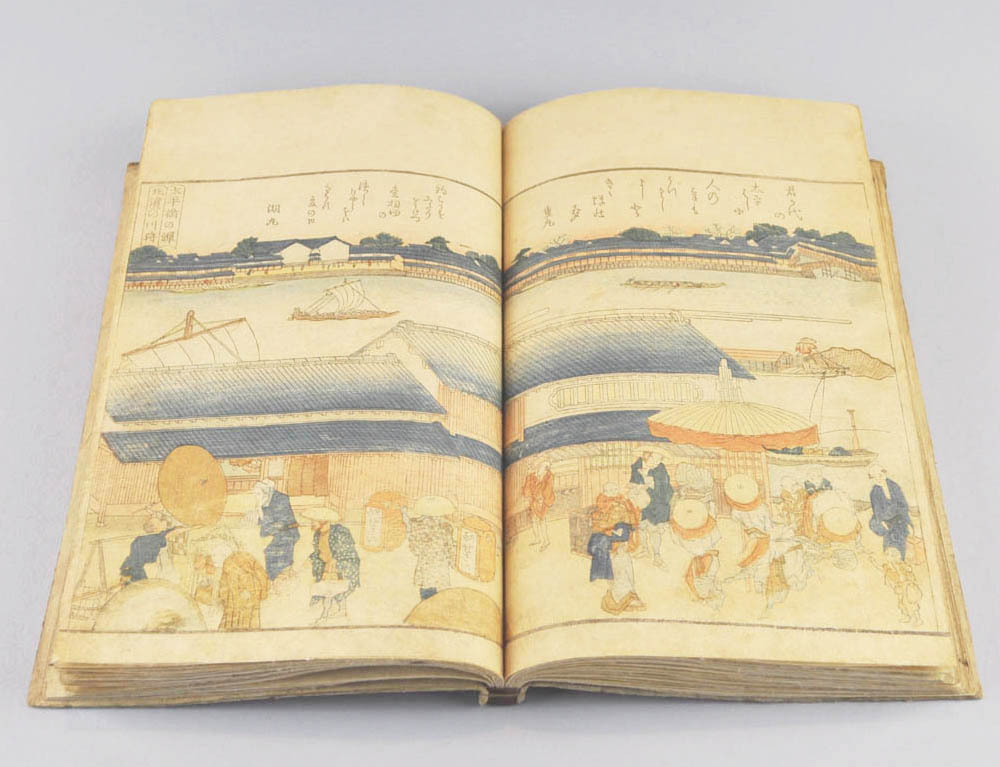 KANENARI (1797-1860). Yodogawa Ryōgan Shōkei zue
Artist:
Akatsuki no Kanenari (1797-1860)
Title:
Yodogawa Ryōgan Shōkei zue (Excellent Views of Both Banks of the Yodo River). Two volumes bound in one, complete.
Description:
A rare book showing a continuous landscape along the Yodo river in Osaka. In this work Kanenari imitates the earlier book by Hokusai on Sumidagawa.
Date:
Colophon dated Bunsei 7 (1824)
Publisher:
Honya Soshichi, Kyoto. Kawachiya, Kawachiya Tasuke and Heishichi Kihei, Osaka.
Medium:
Woodblock printing.
Literature:
Jack Hillier. The Art of the Japanese Book. 2 voll.. London, 1987, p. 861-6.Kenji Toda. Descriptive catalogue of the Japanese and Chinese illustrated books in the Ryerson Library of the Art Institute of Chicago. Chicago 1931, p. 285.
Remarks:
Despite the hand-written title slip and the collector description label, pasted inside the front cover, stating this work as in three volumes, this work is complete in two volumes as corfirmed in all reference books.
Conditions:
Replaced cover with hand-written title slip. Good impression, colours and conditions.