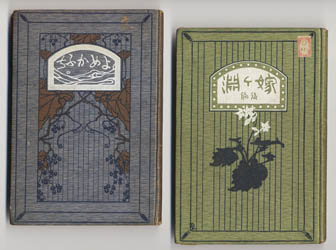 KIYOKATA (1878-1973).The novel Yomegafuchi.
Artist:
Kaburagi Kiyokata (1878-1973)
Title:
Yomegafuchi. Two volumes, complete.
Signature:
The two kuchi-e, woodblock color frontispieces signed by Kiyokata.,
Publisher:
Kanao Bun'endō, Tokyo.
Medium:
Machine printed books and woodblock color prints.
Remarks:
The novel is by the writer Ogasawara Hakuya (1873-1946)
Conditions:
Very good conditions. Very nice western style binding with art nouveau design.