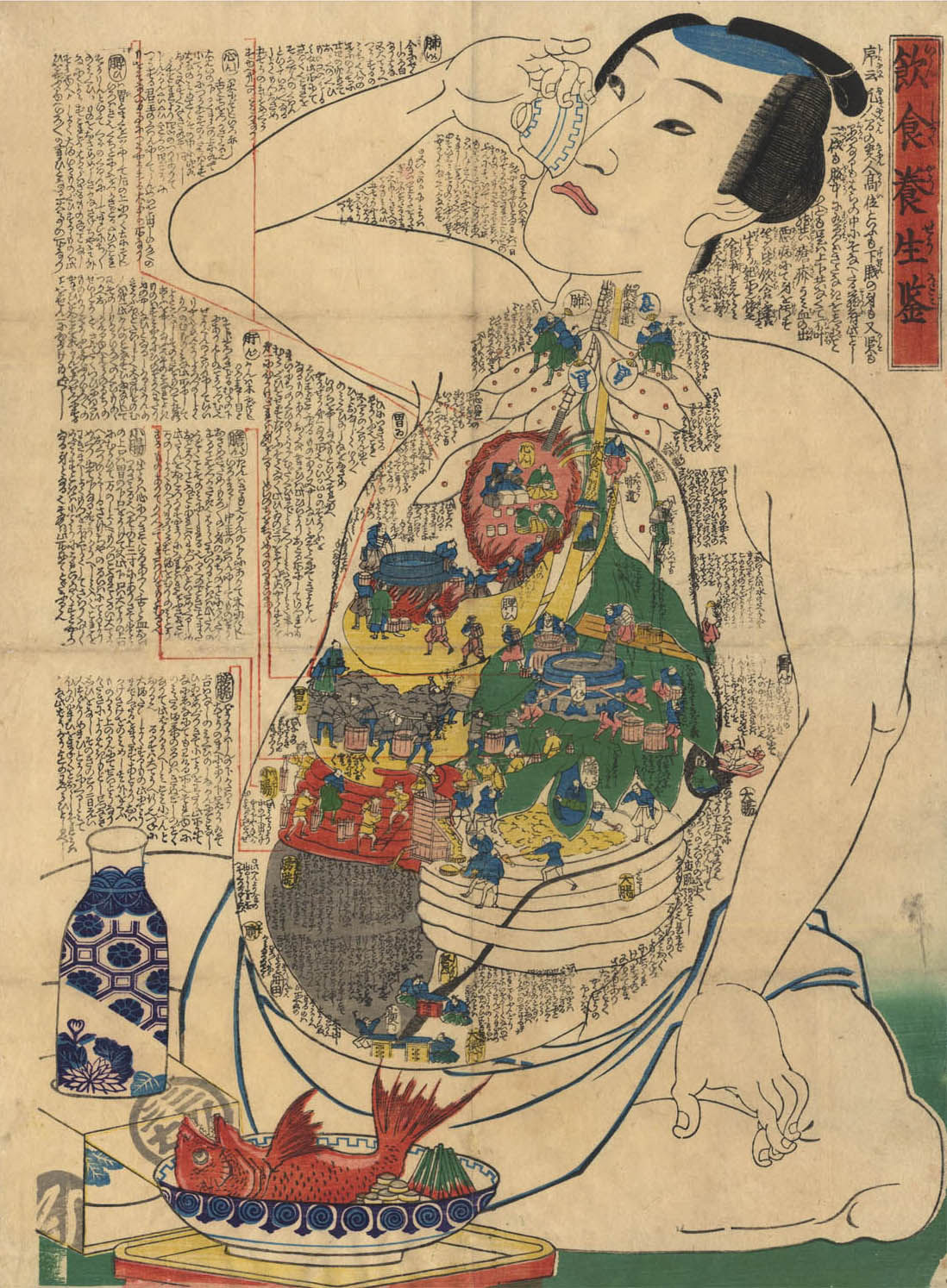 UTAGAWA SCHOOL. The Digestive Process. (Sold)
Subject:
The digestive process.
Title:
Inshoku Yojo Kagami (Mirror of the physiology of Drinking and Eating).
Description:
A rare medical print depicting the Sino-Japanese anatomo-physiological concept of digestion. The man is drinking with a bowlful of food in front of him. The course of digestion is shown by small figures within the torso being directed on each organ by Samurais to indicate the different stages through the digestive system. In the neck, the forward canal is the trachea and behind it the oesophagus is shown. The two organs are separately illustrated in contrast to old Chinese anatomical treatises. The liver is illustrated pluri-lobed on the left side of the abdomen. According to the explanatory text, the gall-bladder assumes the function of an inspector controlling in proper order the condition of the entire body. After the food supply is worked up, it is carried to the spleen which, paradoxically, is located in the upper right-hand side of the abdomen. The heart is participating in the "burning process". In the centre of the heart a scholar samurai is presiding over the life process with two piles of books in front of him.
Size:
Large format, 50,4x37 cm
Medium:
Woodblock colour print.
Literature:
Another impression is illustrated in G. Lukacs, Kaitai Shinsho, the single most famous Japanese book of medicine, Utrecht 2008, pp. 61-65 and in Roger S. Keyes. The Male journey in Japanese Prints. Berkeley 1989, p. 142.
Remarks:
This large medical print is sometimes attributed to Utagawa Kunisada and a version depicting the female body is also known.
Conditions:
The usual folds always found in this kind of prints. In general very good conditions.