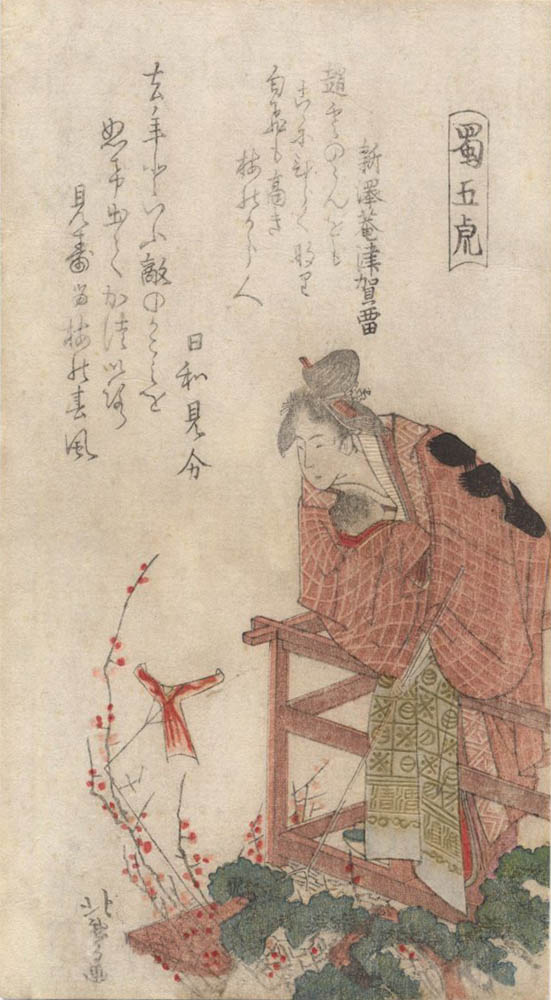 GOSEI (fl. 1810-20 ca.). A woman with a baby. (Sold)
Artist:
Sunayama Gosei (active 1810-20 ca.)
Subject:
A woman holding a baby on a balcony. She is holding a long stick and looking at a kite trapped on a branch of a plum tree. The subject is associated with the Chinese general Zhao Yun.
Series:
Shoku go ko ( Five Tigers of the Kingdom of Shu)
Date:
Probably 1806, year of the tiger.
Publisher:
Privately published.
Size:
Surimono, 19,3x10,5 cm
Medium:
Woodblock color print with use of gold pigments.
Remarks:
Another impression is illustrated in John Carpenter (editor), Reading Surimono the interplay of Text and Image in Japanese Prints. Leiden 2008, p. 192-3, no. 68 and in Joan B. Mirviss. The Frank Lloyd Wright Collection of Surimono. New York 1995, p. 205, no. 88.
Conditions:
Good impression, colour and condition.