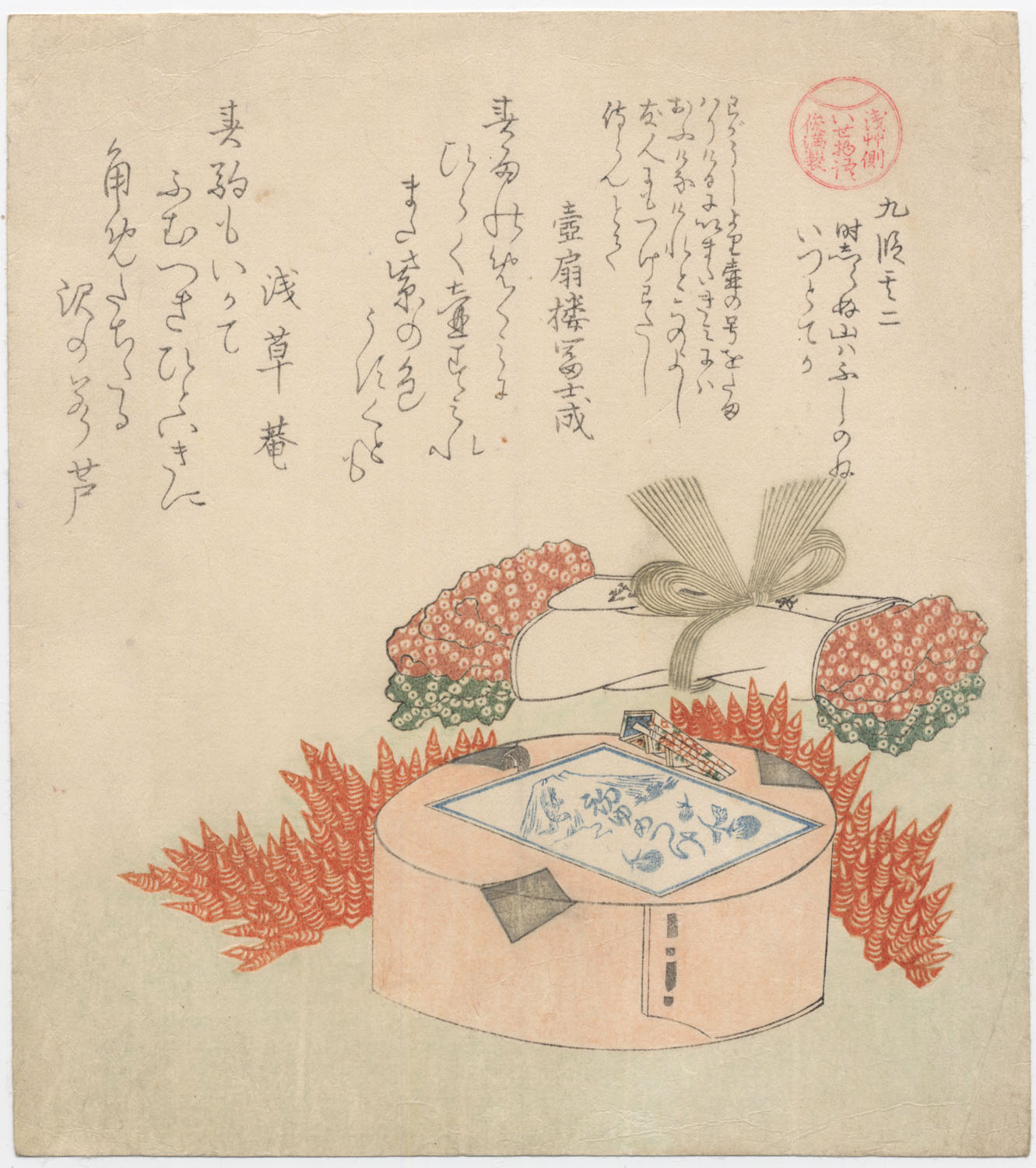 SHUNMAN (1757–1820). Hatsuyumezuke. (Sold)
Artist:
KUBO SHUNMAN (1757–1820)
Subject:
A round wood pickles box of marinated aubergine and shibori textiles.
Description:
A round wood pickles box of marinated aubergine with a toothpick in a wrapper inserted on top. The box's label with title hatsuyumezuke, is decorated with Mount Fuji, a hawk and three eggplants referring to the hatsuyume, the good auspice belief of the New Year First Dream. 
Behind the box there is a piece of unstretched fabric dyed with the shibori technique, while in the background two shibori scarves are wrapped with a paper band.
Series:
From the series Tales of Ise (Ise Monogatari), this design refers to the Section 9, part 2 of this classical collection of 125 
sections attributed to Ariwara no Narihira (825-80). At least nineteen designs in the series have been identified so far. 

Signature:
Shunman sei. The poems signed Kosenrō Fujinari and Asakusa'an.
Publisher:
Privately published by the Asakusa poetry club (also known as Tsubogawa for the jar shape emblem)
Size:
Shikishiban surimono, 21,2x18,9 cm.
Medium:
Woodblock color print with blind printing and metallic pigments.
Literature:
Illustrated in our catalog, Surimono. Poetic Images in Japanese Prints. New Acquisition June 2022, no. 2. Other impressions are illustrated in Ward, Sidney C. (editor). Proceedings of the First International Symposium on Surimono. Tokyo: International Surimono Society, 1979. , p. 59, no. 16, where the poem is translated and explained in relation to the image, in Narazaki, Muneshige. Ukiyo-e masterpieces in European collections. Vol. 8, Bibliothèque Nationale, Paris. Tokyo: Kodansha, 1990. , no. 178 and Ohki, Sadako with Adam Haliburton. The Private World of Surimono: Japanese Prints from the Virginia Shawan Drosten and Patrick Kenadjian. New Haven: Yale University Press, 2020 , no. 243.
Conditions:
Fine impression, good color, faint vertical fold on the reverse otherwise very good conditions.