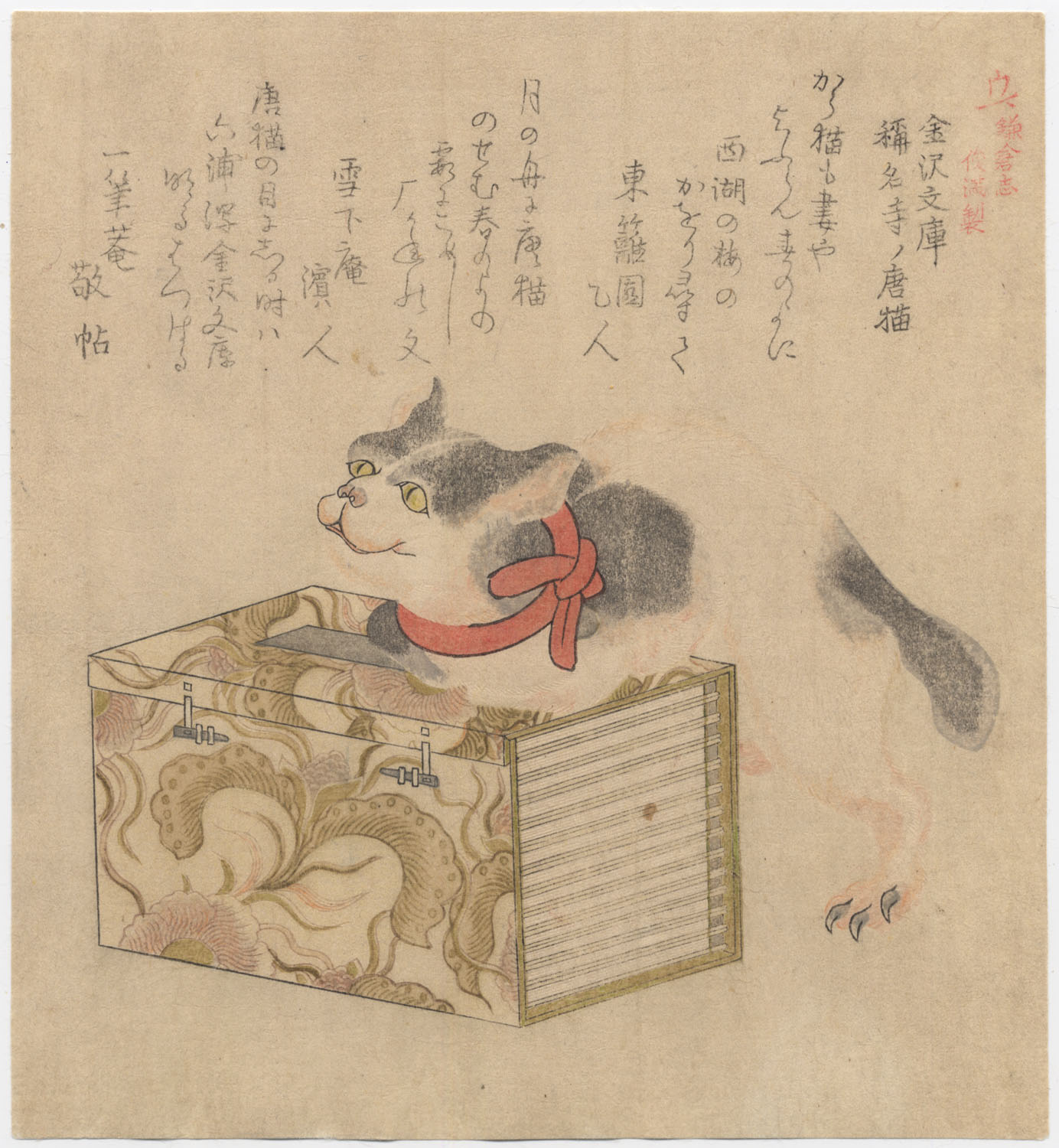 SHUNMAN (1757–1820). Cat and books. (Sold)
Artist:
KUBO SHUNMAN (1757–1820)
Subject:
A cat resting on a set of books.
Title:
Kanazawa Bunko (Kanazawa Libary). Shōmyōji no kara neko (Foreign Cat of Shōmyōji).
Description:
A cat, with a red collar and a silver bell, resting with its front paws on a set of books kept in a case covered with an exotic textile from Indonesia (Sarasa).
Series:
The Chronicles of Kamakura (Kamakura shi). The series includes at least fourteen designs.
Signature:
Poems signed Tōrien Otondo, Sekkan Hamato and Ippitsuan Keijo.
Publisher:
Privately published
Size:
Shikishiban surimono, 18,9x17,9 cm.
Medium:
Woodblock color print with blind printing and metallic pigments.
Literature:
Illustrated in our catalog, Surimono. Poetic Images in Japanese Prints. New Acquisition June 2022, no. 6. Another impression is illustrated and the poems translated in Ostier, Janette, Eiko Kondo, Matthi Forrer, Elisabeth Frolet, Giovanni Peternolli. Les objets tranquilles. Natures mortes japonaises XVIII et XIX siècles. Paris: Galerie Janette Ostier, 1978. , no. 12. 12.
Remarks:
Another impression is in the Metropolitan Museum of Art, New York, no. JP2038.
Conditions:
Fine impression, good color, light backing, slightly trimmed, good conditions.