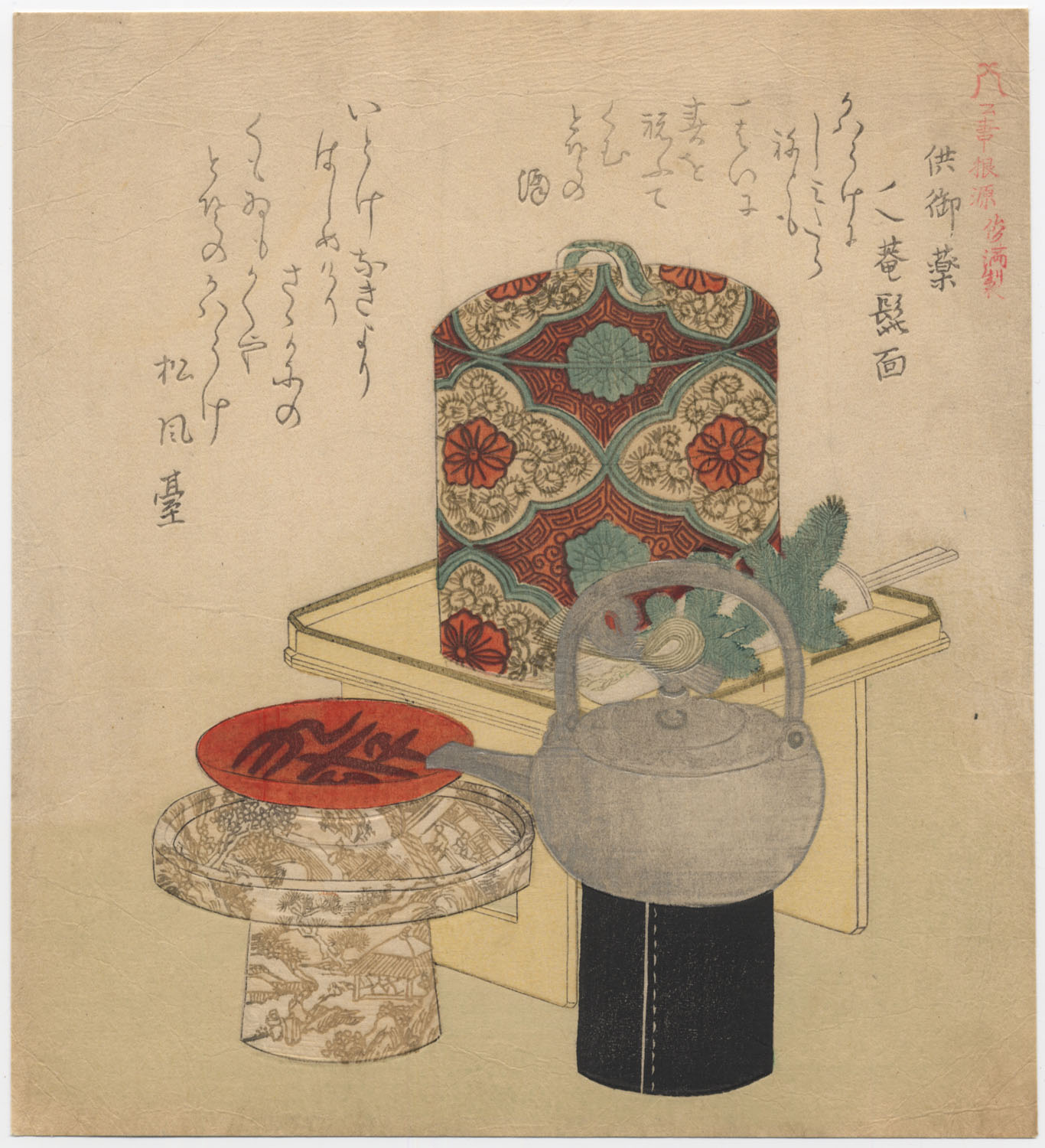 SHUNMAN (1757–1820). Objects for the New Year. (Sold)
Artist:
KUBO SHUNMAN (1757–1820)
Subject:
Objects for the New Year
Title:
Kugoyaku (The medicine for the Emperor)
Description:
Objects for the New Year Ceremony: a silver sake warmer (chōshi), a red lacquer cup decorated with the kotobuki (congratulations) character, a large ceramic tiered box (jūbako) on a small wood table, and a pair of chopsticks inside a wrapper decorated with a pine twig.
Series:
The Origin of Court Ceremonies (Kuji kongen).

Signature:
Shunman sei. Poems signed Narian Higetsura and Shōfūdai.
Publisher:
Privately published
Size:
Shikishiban surimono, 19,9x18 cm.
Medium:
Woodblock color print with extensive use of metallic pigments.
Literature:
Illustrated in our catalog, Surimono. Poetic Images in Japanese Prints. New Acquisition June 2022, no. 10. Another impression is illustrated and the poems translated in Ostier, Janette, Eiko Kondo, Matthi Forrer, Elisabeth Frolet, Giovanni Peternolli. Les objets tranquilles. Natures mortes japonaises XVIII et XIX siècles. Paris: Galerie Janette Ostier, 1978. , no. 39.
Remarks:
Another impression is in the collection of the Metropolitan Museum of Art, New York, 
no. JP2129.
Conditions:
Fine impression, color and conditions.