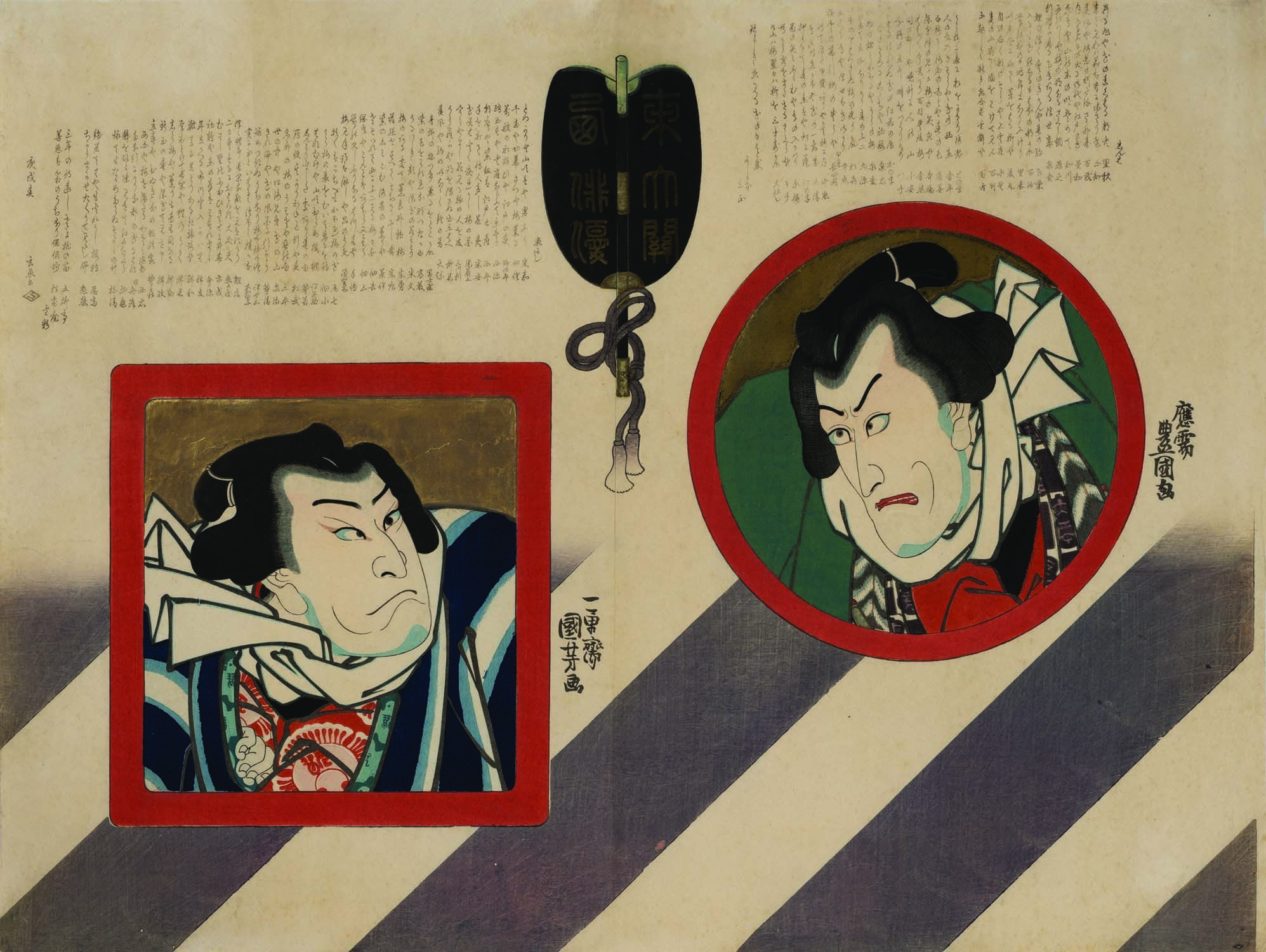 KUNIYOSHI (1797-1861) and KUNISADA (1786-1865). (Sold)
Artist:
UTAGAWA KUNIYOSHI (1797-1861) and UTAGAWA KUNISADA (1786-1865)
Subject:
The kabuki actors Ichikawa Ebizō V (Ichikawa Danjūrō VII) and Nakamura Utaemon IV as two great sumo wrestlers, probably Hanaregoma Chōkichi and Nuregami Chōgorō. On the right the portrait of Ebizō in a round frame is signed by Kunisada, on the left the portrait of Utaemon is by Kuniyoshi.
Title:
Title inside the black wrestling-umpire's fan Azuma no o-sekitori yakusha (Great wrestler-actors of the East).
Signature:
Ojō Toyokuni ga and Ichiyūsai Kuniyoshi ga.
Publisher:
Privately published by the Uogashi and Shimba groups
Size:
Ōbōsho zenshiban surimono, 42,2x55,7 cm.
Medium:
Woodblock color print with extensive use of metal pigments.
Literature:
Illustrated in our catalog, Surimono. Poetic Images in Japanese Prints. New Acquisition June 2022, no. 15. Other impressions are illustrated in Ward, Sidney C. (editor). Proceedings of the First International Symposium on Surimono. Tokyo: International Surimono Society, 1979, p. 12, no. 17. Asano, Shūgō. Edo no surimono. Shuijintachi no okurimono. (Cultivated Gift: Surimono of the Edo Period). Chiba: Chibashi Bijutsukan, 1997, no. 187 and in Robert Schaap et al. Heroes & Ghosts Japanese prints by Kuniyoshi 1797-1861. Leiden, 1998, p. 245.
Conditions:
Fine impression and color, some small restorations on top of centre fold, very good conditions.