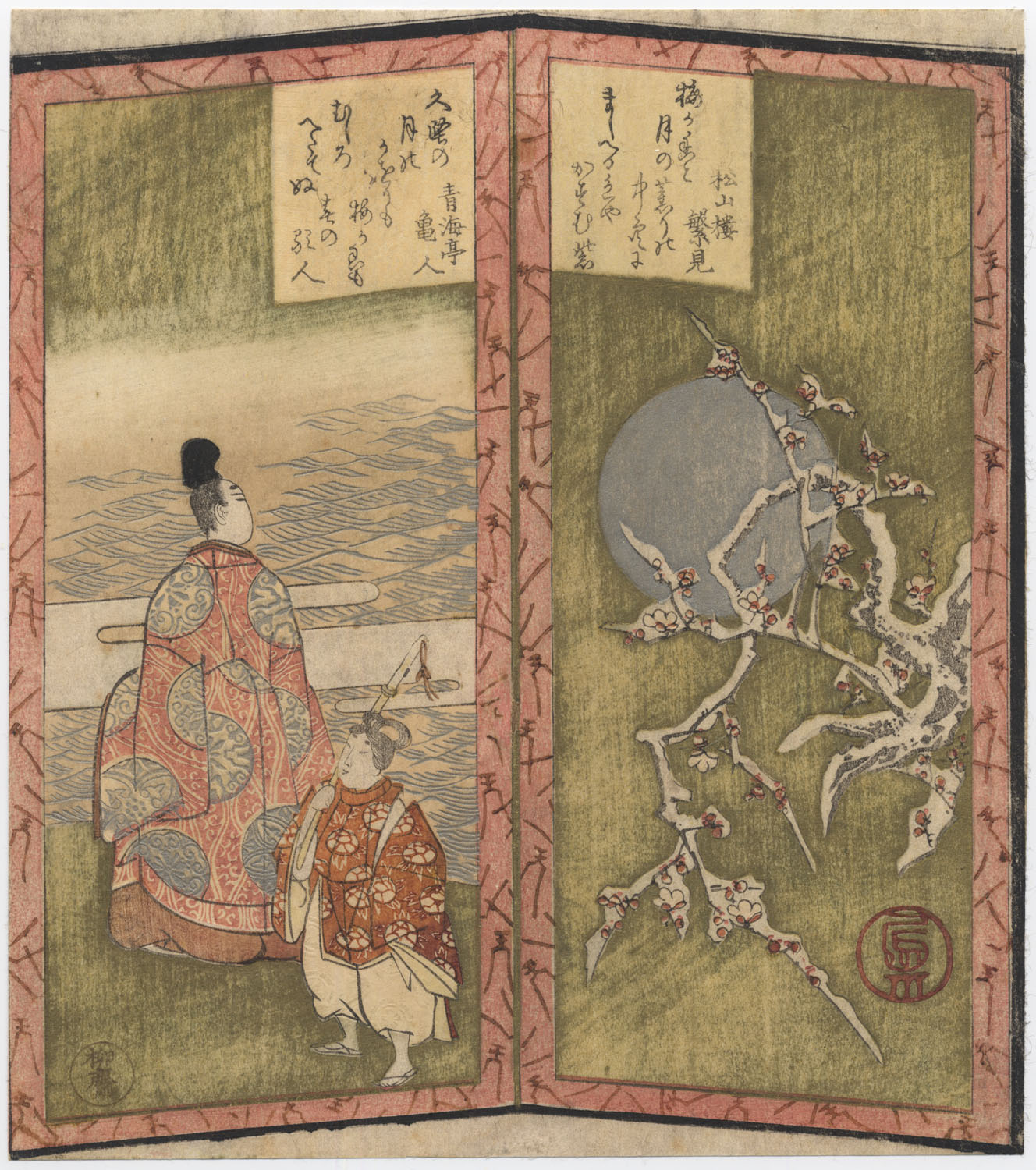 SHINSAI (1764-1820). A two-panels screen. (Sold)
Artist:
RYŪRYŪKYO SHINSAI (1764-1820)
Subject:
A two-panel painted screen. On the right is depicted a large silver full moon and a plum branch covered with snow. On the left a courtier seen from the back is looking at the sea from the beach, behind him a page holds a sword.
Signature:
Shinsai. Poems signed Shōzandō Shigemi and Seikatei Kamendo.
Publisher:
Privately published by the Hisakataya poetry group. Printer's seal Ryūsai.
Size:
Shikishiban surimono, 20,7x18,4 cm.
Medium:
Woodblock color print with blind printing and metallic pigments.
Literature:
Illustrated in our catalog, Surimono. Poetic Images in Japanese Prints. New Acquisition June 2022, no. 22. Other impressions are illustrated, among others, in Roger Keyes. The Art of Surimono Privately Published Japanese Woodblock Prints and Books in the Chester Beatty Library, Dublin. London: Sotheby's, 1985. , no. 287 and McKee, Daniel. Japanese Poetry Prints: Surimono from the the Schoff Collection. Ithaca: The Herbert F. Johnson Museum of Art, 2006. , no. 20 where the poems are translated. 
The complete series from the Rijksmuseum, Amsterdam, is illustrated and described in detail in Forrer, Matthi. Surimono in the Rijksmuseum. Leiden: Hotei Publishing, 2013. , no. 365.
Conditions:
Very good impression and color, some slight thinning, good conditions.