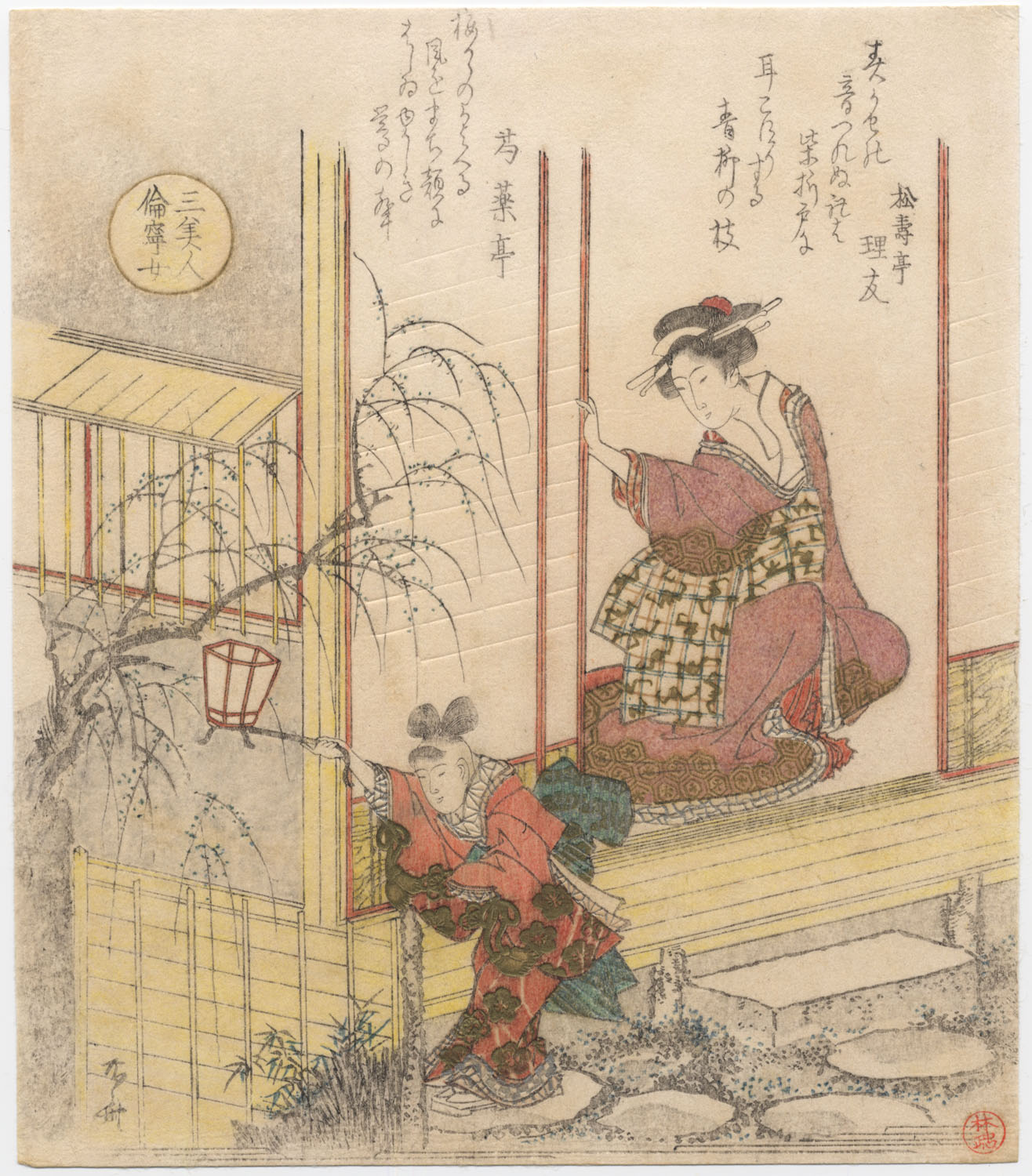 SHINSAI (1764-1820). The mother of Michitsune. (Sold)
Artist:
RYŪRYŪKYO SHINSAI (1764-1820)
Subject:
A woman has opened the sliding door to a little girl who is going to light the way for a visitor who has just arrived at the garden gate. The subject of this surimono alludes to the court lady of the Heian period mother of Fujiwara no Michitsune represented here in Edo period dress.
Series:
Three Beautiful Women (San Bijin). The series includes three designs of women from the literature and history attired in the fashion of Edo beauties.
Signature:
Shinsai. Poems signed Shōjutei Michitomo and Shakuyakutei.
Publisher:
Privately published
Size:
Shikishiban surimono, 20,6x18,5 cm.
Medium:
Woodblock color print with blind printing and metal pigments.
Literature:
Illustrated in our catalog, Surimono. Poetic Images in Japanese Prints. New Acquisition June 2022, no. 23. Another impression is in the collection of the Museum of Fine Arts Boston, no. 11.21004. The impression in the Frank Lloyd Wright Collection is illustrated in Mirviss, Joan B. with John T. Carpenter. The Frank Lloyd Wright Collection of Surimono. New York: Weatherhill, Phoenix: Phoenix Art Museum, 1995. , no. 44, where the two poems are translated and the subject explained in detail. All three surimono in the series are illustrated in Polster, Edythe and Alfred H. Marks. Surimono: Prints by Elbow. Washington D.C.: Lovejoy Press, 1980. , p. 375-7.
Remarks:
Provenance: Seal of Hayashi Tadamasa on recto, Galerie Huguette Bères.
Conditions:
Fine impression, good color, good conditions.