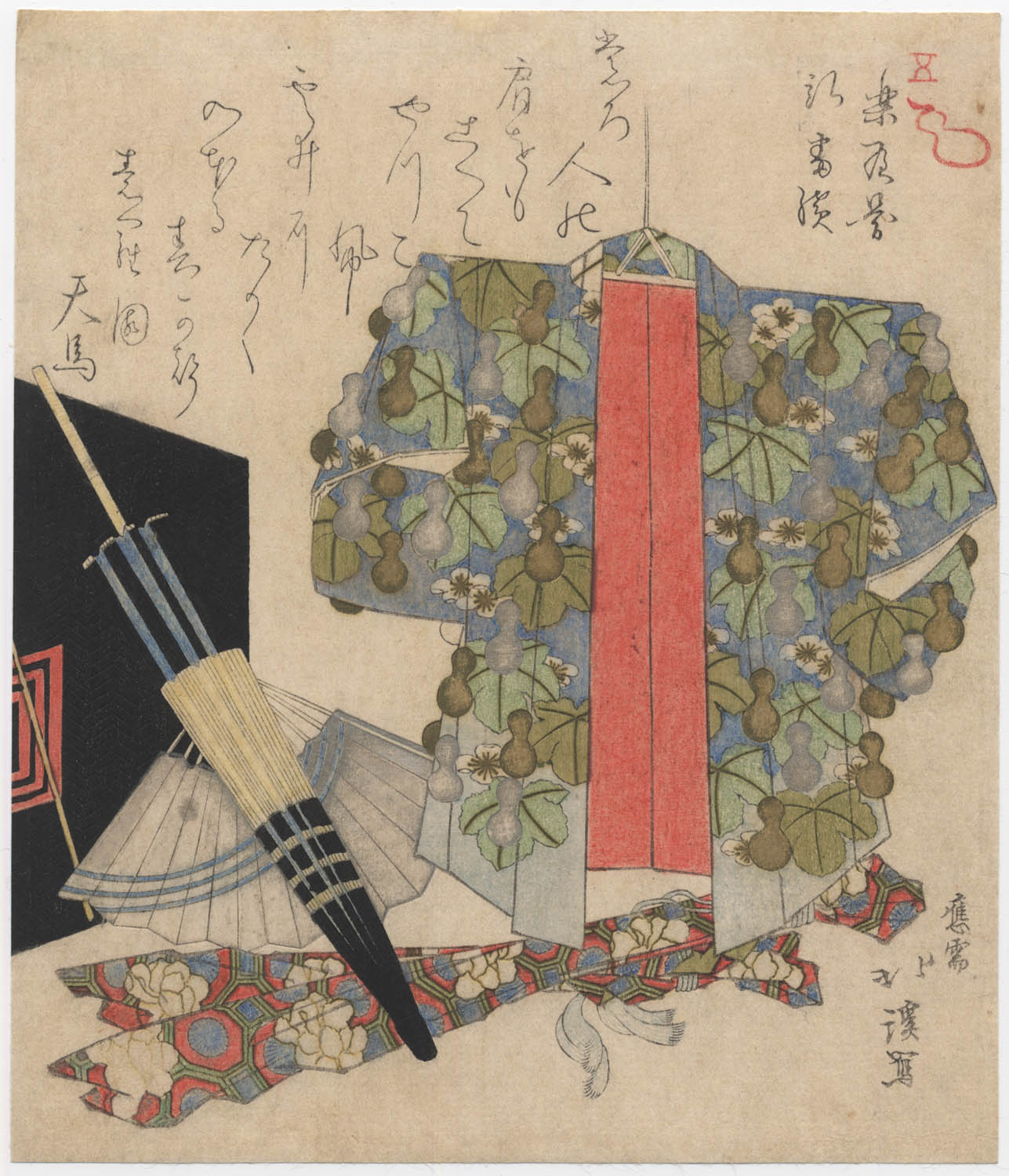 HOKKEI (1780-1850). Props for kabuki plays. (Sold)
Artist:
TOTOYA HOKKEI (1780-1850)
Subject:
Props for the Ichikawa family
Description:
Props for kabuki plays of the Ichikawa family: a bull's eye patterned umbrella, a black delivery box decorated with the mimasu family mon, a folding fan (ōgi), two swords inside their fabric cases decorated with peonies and a kimono with a design of gourds, paulownia leafs and cherry blossoms. A similar kimono was used by Ichikawa Danjuro VII in one scene of the play Yakko Yakko Edo Hanayari staged in 1819 and depicted in two surimono by Kunisada. According the page in the Metropolitan Museum's website related those surimono, the gourd was an emblem of the Ichikawa family since the time when Danjūrō II was given a gourd formerly used by the famous haiku poet Matsuo Bashō to store rice.
Signature:
Signed ōju Hokkei sha. Poem signed Suraen Tenma.
Publisher:
Privately published by the Gogawa poetry group,
Size:
Shikishiban surimono, 21,1x18 cm.
Medium:
Woodblock color print with blind printing and metal pigments.
Literature:
Illustrated in our catalog, Surimono. Poetic Images in Japanese Prints. New Acquisition June 2022, no. 25.
Remarks:
A rare print. No other impressions of this surimono or others from the series have been located.
Conditions:
Good impression, color and conditions.