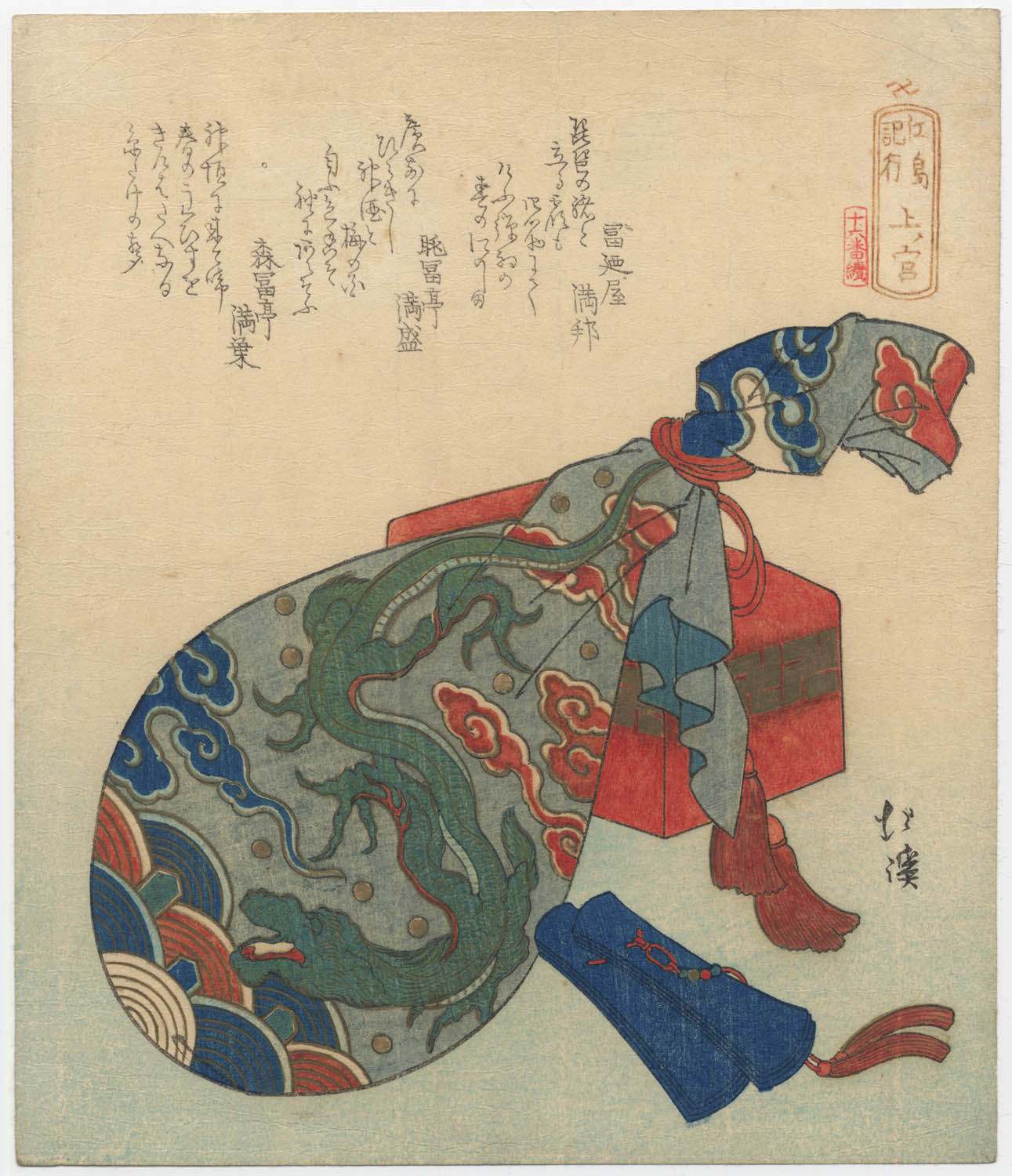 HOKKEI (1780-1850). Biwa and castanets. (Sold)
Artist:
TOTOYA HOKKEI (1780-1850)
Subject:
A Japanese lute (biwa) in a brocade satchel decorated with a dragon and a pair of castanets. The biwa is leaning against a box with a reversed swastika motif, symbol of the group of poets who commissioned the surimono series.
Series:
Souvenirs of Enoshima, a Set of Sixteen (Enoshima kikō, jūrokuban tsuzuki).
Signature:
Hokkei. Poems signed Tominoya Mitsukuni, Chōfutei Mitsumori and Shimputei Mitsuba.
Publisher:
Privately published by the Manji poetry group
Size:
Shikishiban surimono, 20,9x17,8 cm.
Medium:
Woodblock color print with metal pigments.
Literature:
Other impressions are illustrated in Ostier, Janette, Eiko Kondo, Matthi Forrer, Elisabeth Frolet, Giovanni Peternolli. Les objets tranquilles. Natures mortes japonaises XVIII et XIX siècles. Paris: Galerie Janette Ostier, 1978 , no.103, Mirviss, Joan B. with John T. Carpenter. The Frank Lloyd Wright Collection of Surimono. New York: Weatherhill, Phoenix: Phoenix Art Museum, 1995, no. 137 and Aitken, Geneviève, Surimono Trésors de l'estampe japonaise. Paris: In fine éditions d'art, 2019, p.100 where the poems are translated.
Remarks:
Illustrated in our catalog, Surimono. Poetic Images in Japanese Prints. New Acquisition June 2022, no. 26. Another impressions is in the collection of the Museum of Fine Arts Boston 11.19848.
Conditions:
Fine impression, color and conditions.