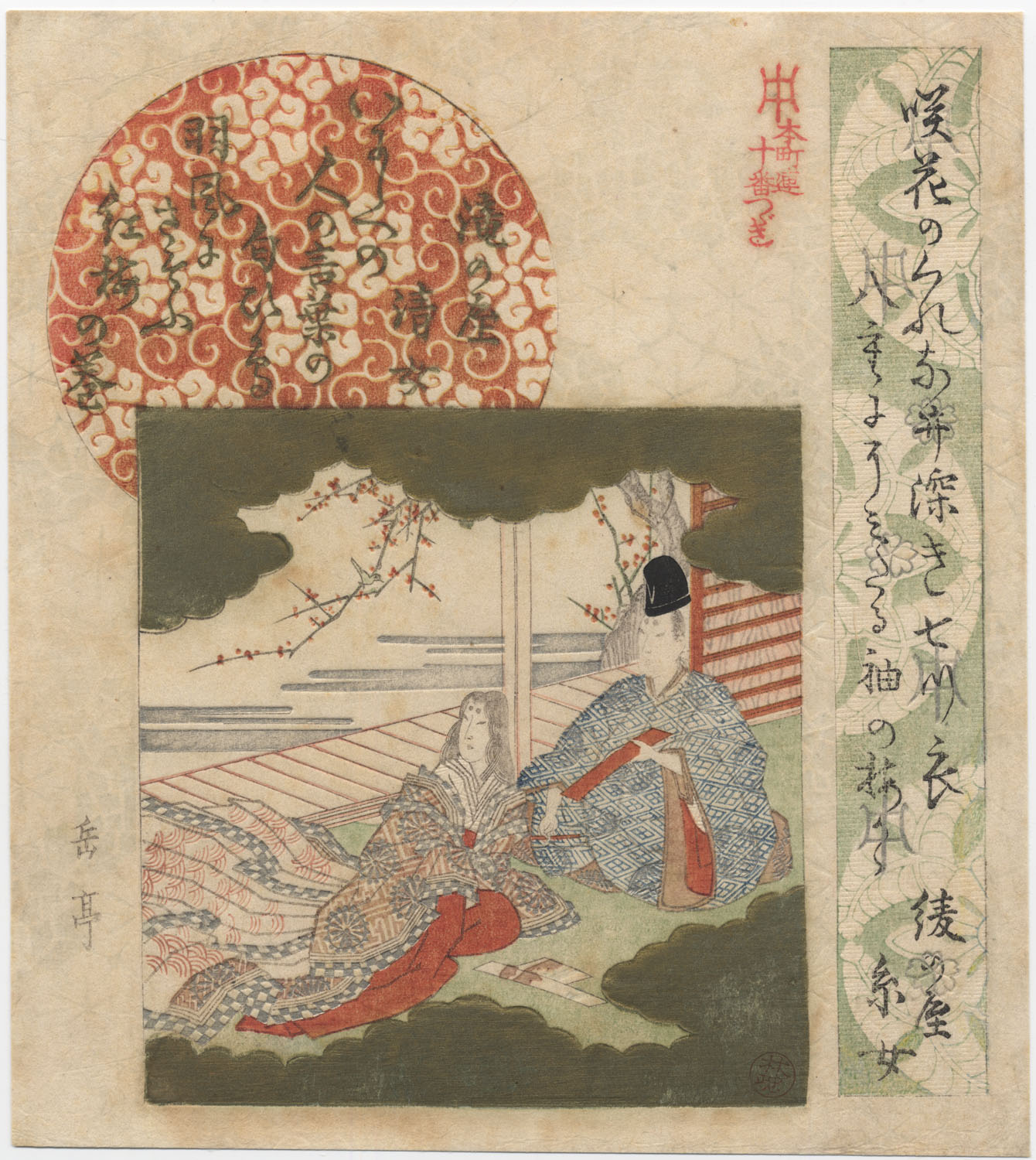 GAKUTEI (1786-ca.1855). Composing poems. (Sold)
Artist:
YASHIMA GAKUTEI (ca. 1786-ca.1855)
Description:
A noble man and a court lady from the Heian 
period composing poems on a veranda. 
The couple is depicted between two clouds printed in gold. Behind them lines of mist in silver and a plum tree.
Series:
Ten images for the Honchō group (Honchōren jūban tsugi)
Signature:
Gakutei. The poems signed Ayanoya Itome and Takinoya Kiyome.
Publisher:
Privately published by the Honchō poetry group
Size:
Shikishiban surimono, 20,2x18,2 cm.
Medium:
Woodblock color print with blind printing and extensive metallic pigments.
Literature:
Illustrated in our catalogue "Surimono. Poetic Images in Japanese Prints. New Acquisitions June 2022", n. 28. Other impressions are illustrated in Keyes 1984, no. 31 and in Aitken, Geneviève, Surimono Trésors de l'estampe japonaise. Paris: In fine éditions d'art, 2019, p. 46 where the two poems are translated. Gakutei designed a very similar composition for another surimono (illustrated in Roger Keyes. The Art of Surimono Privately Published Japanese Woodblock Prints and Books in the Chester Beatty Library, Dublin. London: Sotheby's, 1985. , no. 33.
Remarks:
Provenance: seal of Hayashi Tadamasa on recto.
Conditions:
Good impression and color, some foxing otherwise very good conditions.