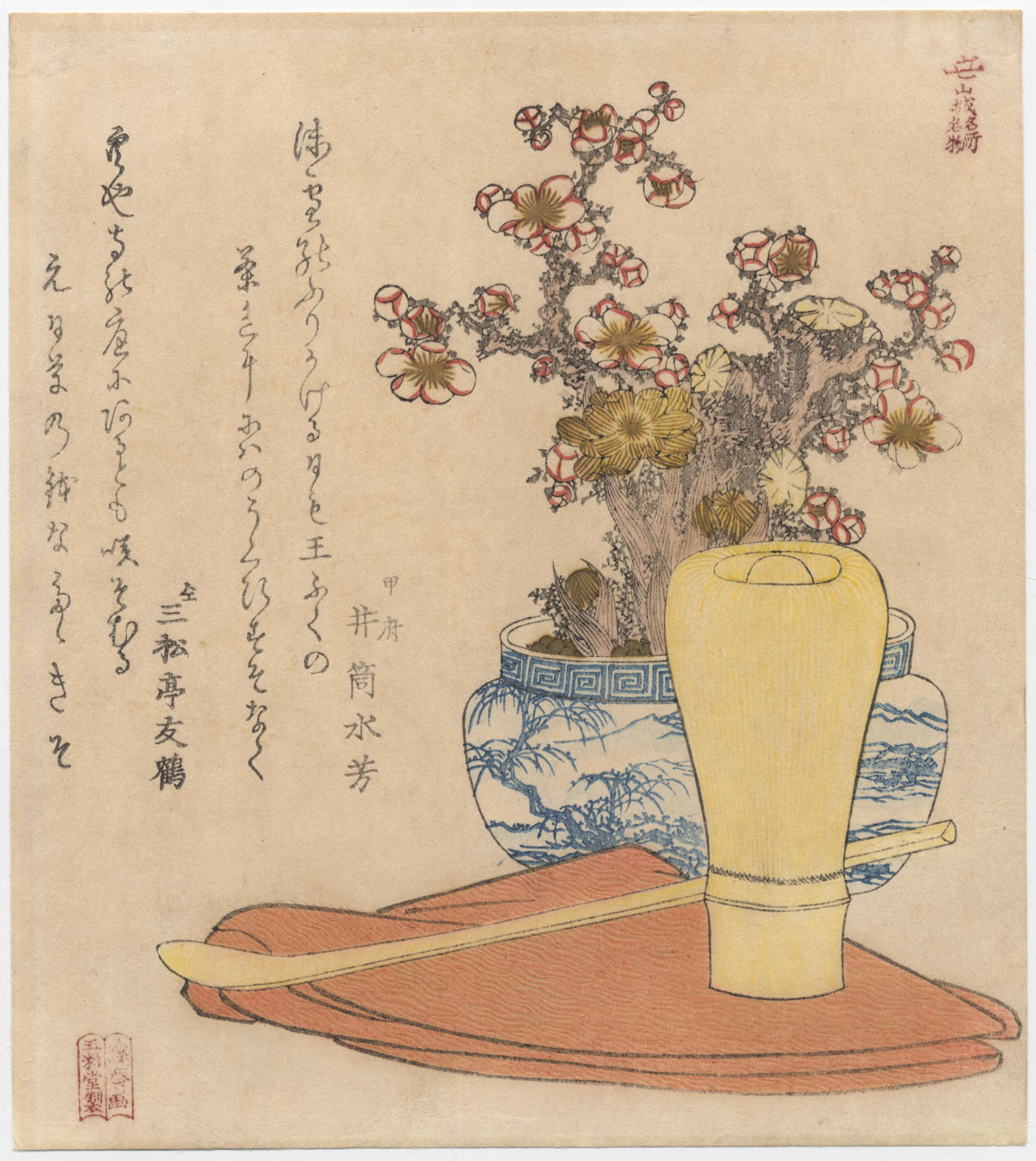 EISEN (1790-1848) Tea ceremony objects. (Sold)
Artist:
KEISAI EISEN (1790-1848)
Subject:
Objects for the tea ceremony: a whisk (chasen) and a tea spoon (chasaku) are placed on a folded red cloth (fukusa). In the background a ceramic vase, decorated in blue with a landscape, with an adonis plant and a miniature flowering plum tree.
Series:
Famous Places and Products of Yamashiro Province (Yamashiro meisho meibutsu)
Signature:
Keisai ga. Poems signed Itsutsu no Mizuyoshi and Sanshōtei Tomozuru.
Publisher:
Privately published
Size:
Shikishiban surimono, 20,6x18,3 cm.
Medium:
Woodblock color print with blind printing and metallic pigments.
Literature:
Illustrated in our catalog, Surimono. Poetic Images in Japanese Prints. New Acquisition June 2022, no. 29. Other impressions are illustrated in Keyes 1984 no. 10 and Ostier, Janette, Matthi Forrer, Nelly Delay, Eiko Kondo, Elisabeth Frolet, Reiko Vergneire. La voix silencieuse des choses. Paris: Galerie Janette Ostier, 1989., no.117, where the poems are translated.
Remarks:
The series includes at least eleven surimono of various subjects freely associated with the theme of Famous Products (meibutsu) of the Yamashiro area around Kyoto.
Conditions:
Good impression, color and conditions.