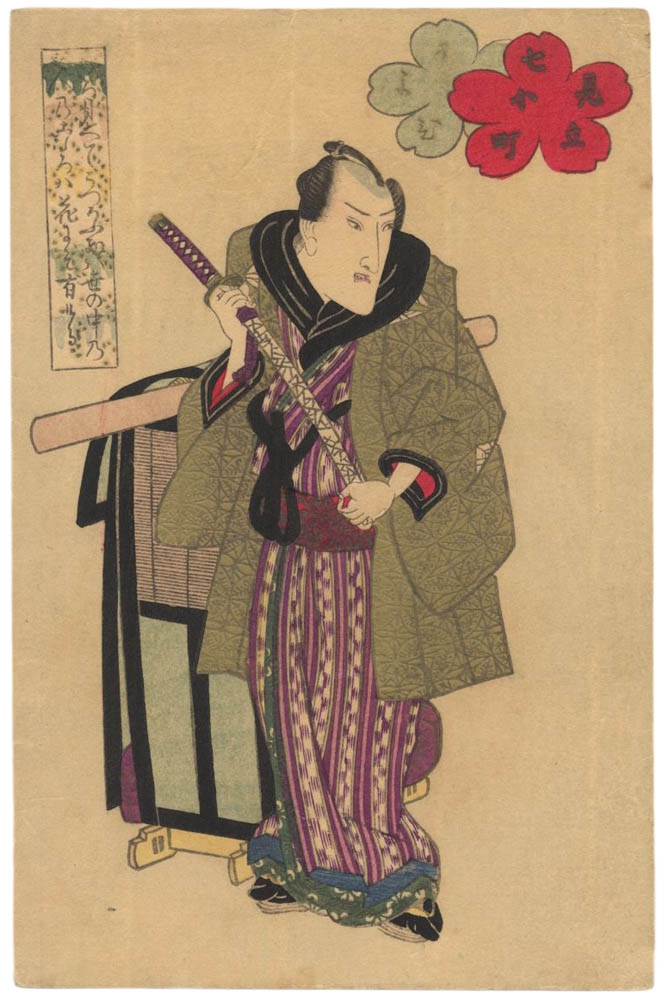 KUNISADA (1785-1865). Kabuki actor. (Sold)
Artist:
Utagawa Kunisada (1786-1865)
Subject:
The kabuki actor Bandō Mitsugorō III (1775-1831), standing by a palanquin while he puts the sword under his belt.
Series:
Mitate nana Komachi (A Parody on the Seven Komachi)
Signature:
Unsigned as all prints in the series.
Publisher:
Privately published by the Katsushika Mimasuren.
Size:
Surimono, koban tate-e, 19,3x12,6.
Medium:
Woodblock color print with use of metallic pigments.
Literature:
Three other surimono from this series are illustrated in Matthi Forrrer, Surimono in the Prentenkabinet Rijksmuseum, Amsterdam, 2004, n. 208-9-10.
Remarks:
A rare surimono. Impressions of the other six surimono that complete this series are in the collections of the Rijksmuseum, Amsterdam and the Museum of Fine Arts, Boston.
Conditions:
Fine impression, color and conditions.