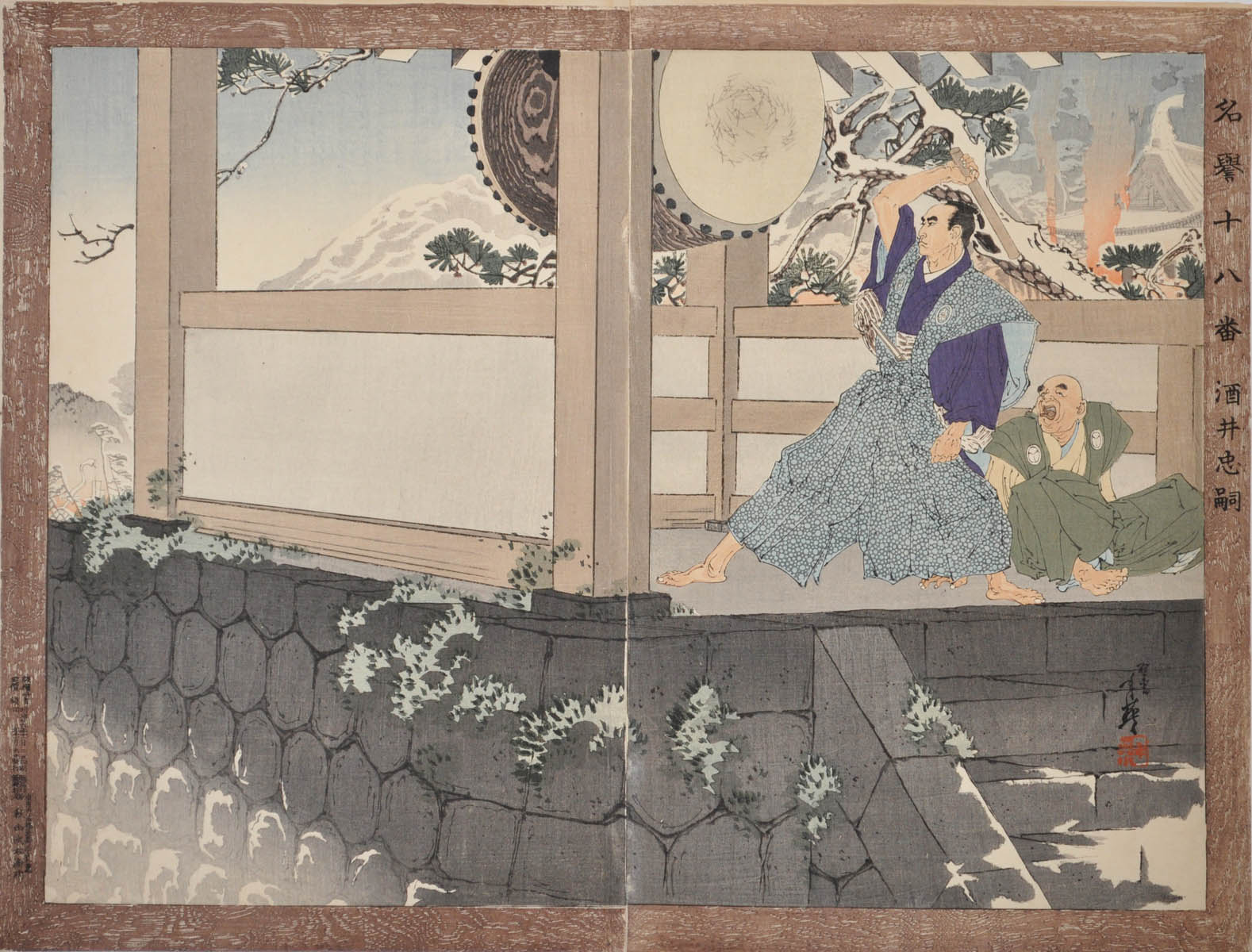 TOSHIHIDE (1863-1925). Sakai Tadatsugu.
Artist:
Migita Toshihide (1863-1925).
Subject:
Warrior Sakai Tadatsugu beating a war drum at Hamamatsu Castle, after the Battle of Mikatagahara.
Description:
The British Museum website gives the following comment for the subject: Tokugawa Ieyasu suffered a disastrous defeat at the hands of Takeda Shingen during the Battle of Mikatagahara (1573). He retreated to Hamamatsu Castle where his ally Sakai Tadatsugu beat a war drum as though welcoming back a vast army. Suddenly uncertain of Ieyasu remaining strength, Shingen troops halted their advance, camped for the night near the castle, and then succumbed to a night attack. The subtitle of this print seems to give an incorrect character for the subject given name. Sakai Tadatsugu (1816-1851) was a not-especially heroic late-Edo daimyo. His ancestor Sakai Tadatsugu (1527-1596), however, was a major historical figure in keeping with the other warriors depicted in this series, and known for the illustrated episode
Series:
Meiyo juhachi ban (Eighteen Acts of Glory)
Signature:
Moyome ni ojite Toshihide. Artist seal.
Publisher:
Akiyama Buemon.
Size:
Oban diptych, 35,7x47 cm.
Medium:
Woodblock color print.
Conditions:
Very good impression and colour, good conditions.