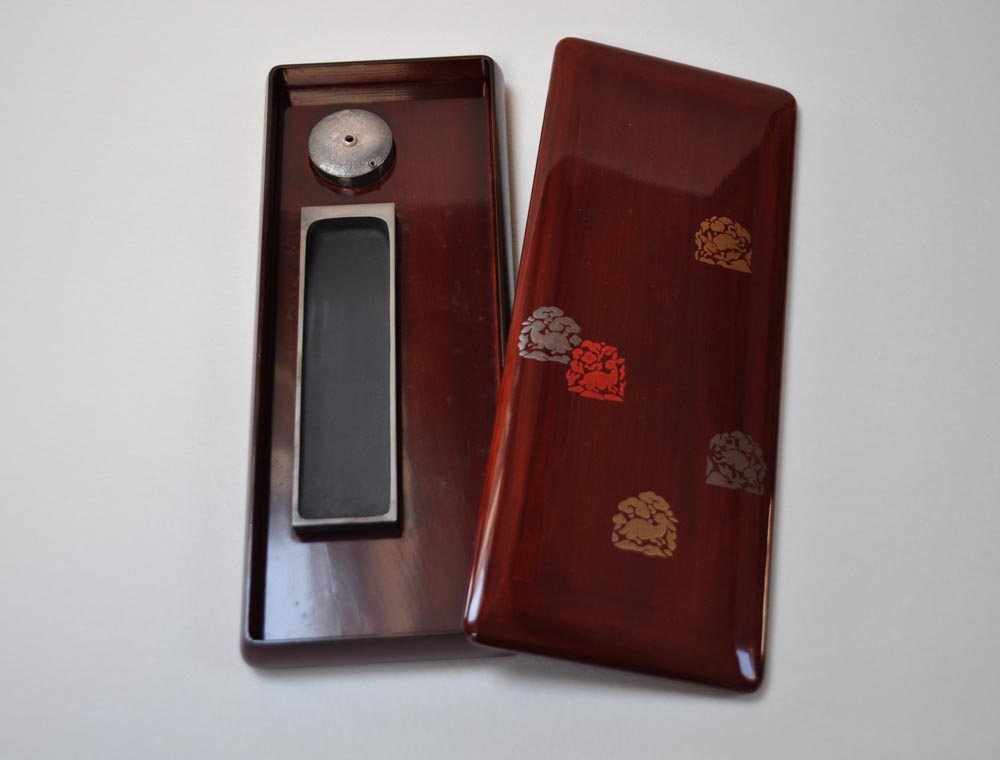 Suzuribako
Writing box (suzuribako) in lacquered wood. Decorated in light relief (hiramakie) in colored lacquer on a background treated with transparent red-orange lacquer (shunkei-nuri), with a repeated design of a hare among the flowers. The decorative pattern was often found in ancient textile. Complete with ink-stone (suzuri) and silver water dropper (mizuhire). Original storage box (tomobako). Made for the Minoya company in Kyoto.

The Minoya lacquer shop, founded in 1772, sold lacquer objects made by the best craftsmen. In 1943 the firm produced the lacquer objects for the wedding set of Princess Higashikuni Shigeko (1925-1961), the eldest daughter of Emperor Showa. After World War II, the ninth director of Minoya, Inagaki Magoichiro, decided to close the shop and in 1991 he donated the company's collection to the Kyoto National Museum.
Unsigned. Minoya label inside the tomobako.
First half of the 20th century. Around 1950
Dimensions 27 x 11 x 2.5 cm
Price: Euro 950
Status: Available
Item no. L 559