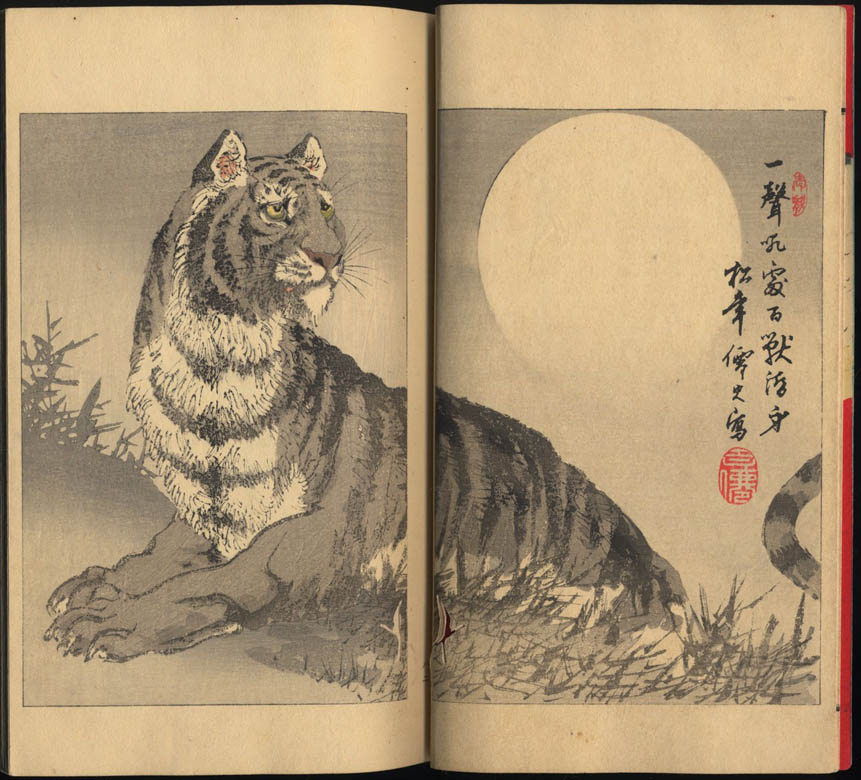 WATANABE SEITEI (1851-1918). Bijutsu Sekai 8. (Sold)
Artist:
Watanabe Seitei (1851-1918) (editor)
Subject:
Bijutsu Sekai 6 (The world of art No. 8).
Description:
Nine double-page, four single-page illustrations and one final three pages illustration by Seitei.
Date:
Meiji 24, seventh month (1891)
Publisher:
Wada Tokutarō (Shunyōdō)
Block-cutter:
Gotō Tokujirō
Medium:
Woodblock color print.
Literature:
Charlotte van Rappard-Boon. Catalog of the Collection of Japanese Prints Part V The Age of Yoshitoshi. Rijksprentenkabinet. Rijksmuseum Amsterdam 1990, p. 89.
Remarks:
The art magazine Bijutsu Sekai, one of the best known of the time, featured works by well-known contemporary and past masters. Twenty-five issues were published from December 22, 1890 until the final issue of January 2, 1894. Published by Shunyōdō, a Tokyo publishing house best known for publishing illustrated novels, it was edited by Watanabe Seitei, a famous artist specialized in kachōga (paintings of birds and flowers). The works of the artists appearing in the magazine included those of Seitei himself, Kawanabe Kyōsai (1831-1889), Tsukioka Yoshitoshi (1839-1892), Kōno Bairei (1844-1895), Kobayashi Eitaku (1843-1890), Imao Keinen (1845 - 1923), Shibata Zeshin (1807-1891), Kitagawa Utamaro (1753-1806), Maruyama Ōkyo (1733-1795), Yosa Buson (1716-1784) and Katsushika Hokusai (1760-1849). The final issue, volume 25, consisted only of works by Seitei.
Conditions:
Fine impression and color, some tiny wormholes on the three final sheets of text otherwise very good conditions.