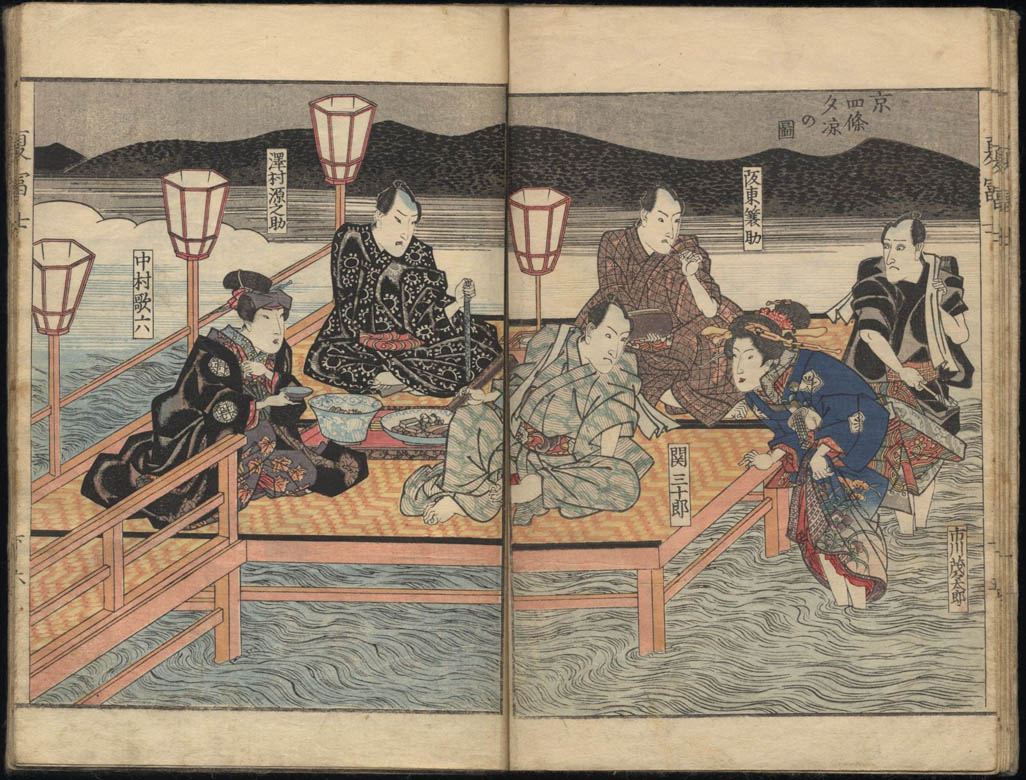 KUNISADA (1786-1865). Yakusha sugao natsu no Fuji. (Sold)
Artist:
Utagawa Kunisada (1786-1865)
Title:
Yakusha sugao natsu no Fuji (Portraits of actors without make-ups: Fuji in summer). Volume 2 of two.
Description:
The final volume of a fine work on kabuki actors by Kunisada. The nine double page illustrations in color show famous actors from Edo, Kyoto and Osaka seen in everyday activities outside the stage. The book title is a pun, comparing the Mount Fuji without snow, to actors off stage 'without white paint on their face'. Contents as described in Kunisada's World but missing the colophon inside back cover.
Publisher:
Tsuruya Kiyemon and four other Edo publishers.
Medium:
Woodblock color printing.
Literature:
Jack Hillier. The Art of the Japanese Book. 2 voll.. London, 1987, p. 582. Sebastian Izzard et al. Kunisada's World. New York,1993, p. 112 no.48/2. H. Kerlen. Catalogue of Pre-Meiji Japanese Books and Maps in Public Collections in the Netherlands. Amsterdam, 1996, no.1118.
Conditions:
Original cover and title slip with some rubbing, very good impression, color and conditions