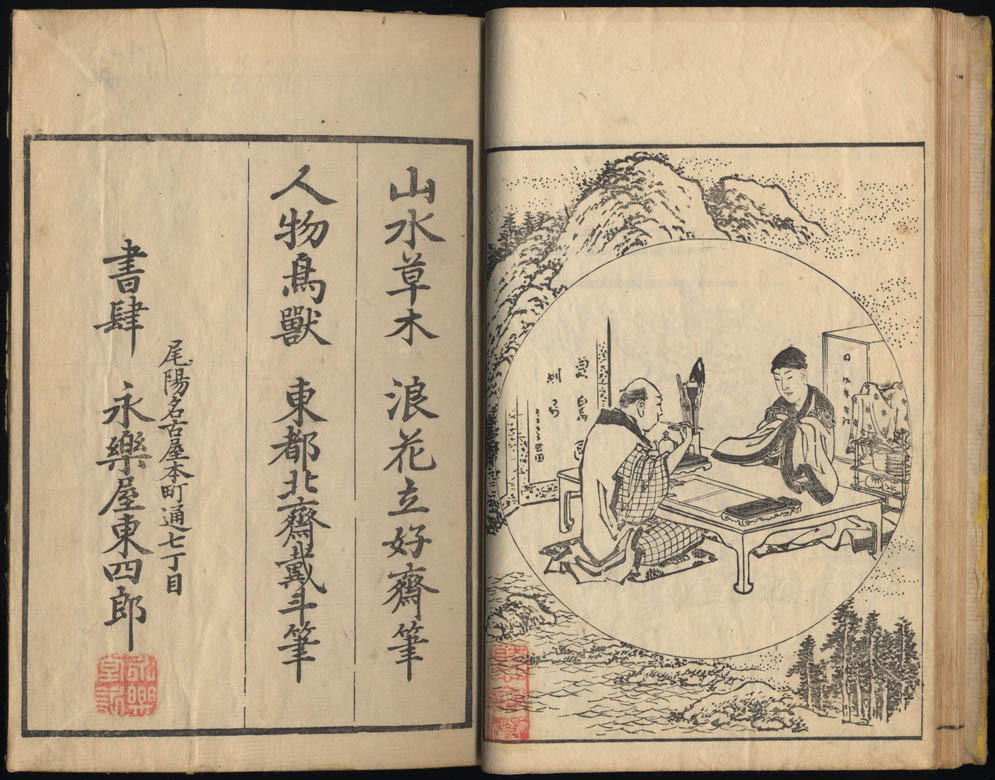 HOKUSAI e RYŪKŌSAI. Ryōhitsu gafu. (Sold)
Artist:
Katsushika Hokusai (1760-1849) and
 Jokei Ryūkōsai (active 1770-1809)
Title:
Ryohitsu gafu (Picture album of two brushes). One volume, complete
Description:
n this book Hokusai adapted an haiku antology originally illustrated by the Osaka artist Ryūkōsai, the Gekijo gashi of 1803. Hokusai designed new figures to fit in the landscapes. Several editions of this work are known with different titles, color illustrations or omitting the poems as in this copy. Two pages of introduction, 19 double page and 2 single page illustrations of landscape. Inside back cover is the colophon with names of both artists.
Publisher:
Eirakuya Tōshirō, Nagoya
Medium:
Woodblock printing.
Literature:
Matthi Forrer, Hokusai and his school. Paintings, drawings and illustrated books. Haarlem 1982, no. 85. Jack Hillier. The Art of Hokusai in Book Illustration. London, 1980, p. 120-131.
Conditions:
Good conditions.