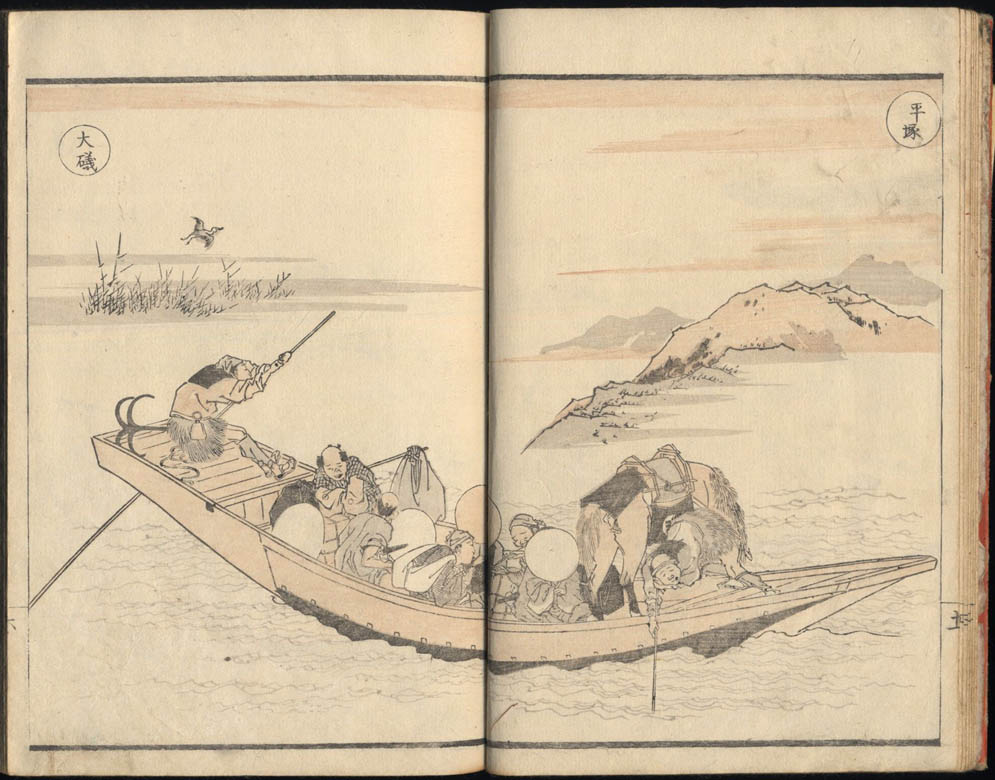 HOKKEI and HOKUSAI. Dochu gafu (Sold)
Artist:
Katsushika Hokusai (1760-1849) and Totoya Hokkei (1760-1849)
Title:
Dochu gafu (Album of drawings along the road). One volume complete.
Description:
The book is illustrated by Hokkei with views of localities and travelers along the Tōkaidō road. The illustrations were originally published in Kyoka tokan ekiro no suzo and contained poems on top of the images. In this edition the poems are not present as they have been removed from the woodblocks. Two illustrations by Hokusai were added at the beginning of the book: the facade of the Edo branch of the publisher Eirakuya Tōshirō and a view of the Nihon bridge in Edo. Altogether the book includes two single-page and thirty-three double-page illustrations.
Publisher:
Eirakuya Tōshirō, Nagoya.
Size:
Hanshibon, 21x15,5 cm
Literature:
Matthi Forrer. Eirakuya Tōshirō Publisher at Nagoya. Amsterdam 1985, p. 159, impression A-C1. Matthi Forrer, Hokusai and his school. Paintings, drawings and illustrated books. Haarlem 1982, n. 87 for the edition with poems.
Conditions:
Cover slightly rubbed otherwise in very good conditions.