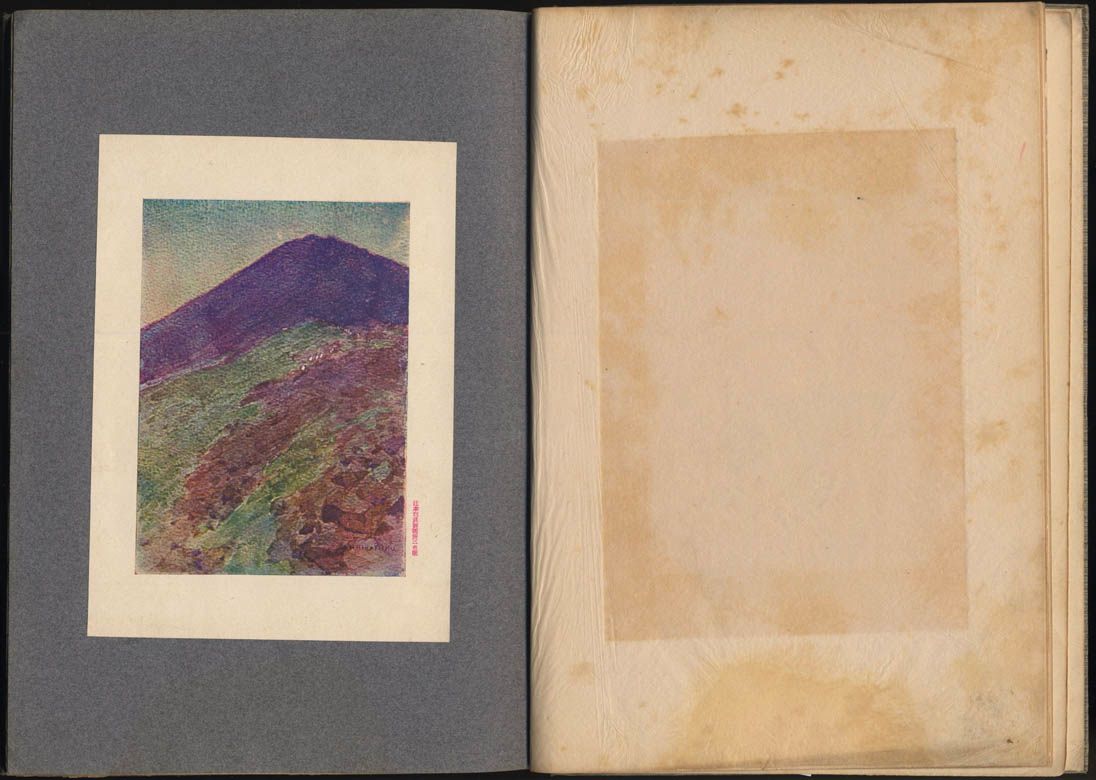 HIRAFUKU HYAKUSUI (1877-1933). Fuji Isshu. (Sold)
Artist:
Hirafuku Hyakusui (1877-1933)
Title:
Fuji isshu (A tour of Fuji). One volume, complete.
Description:
A "sketch- tour book" devoted to Mount Fuji. Hardback western style binding decorated with Mount Fuji and pines. Seventy-nine pages, nineteen plates in woodblock and other media, several text illustrations.
Medium:
Mix media like half-tone, lithograph, collotype, and color woodblock.
Literature:
Jack Hillier. The Art of the Japanese Book. 2 voll.. London, 1987, p.998 and 1058 for a reproduction of the cover.
Remarks:
The British Museum website gives the following information about the artist: The son of Hirafuku Suian (1844-90), a painter in the 'Nanga' (old Chinese) style, Hyakusui studied painting with the Shijo-school artist Kawabata Gyokusho (1842-1913) from 1894 and at the Tokyo School of Fine Arts from 1897 to 1899, where he became a painter in the new 'Nihonga' style. In 1900 he formed with other artists the Musei-kai, a society devoted to greater naturalism in 'Nihonga'. Again in 1916 he joined with Kaburaki Kiyokata (1878-1972) in forming a similar society called Kinrei-sha. He was a designer of prints for 'Hosun'. Having also studied Western-style sketching at the Taiheiyo-Gakai (Pacific Painting Association) in Tokyo, he was able to make his living as a cartoonist and illustrator for newspapers and books, a calling he shared with his contemporary Kiyokata. From 1914 he became increasingly celebrated as a painter in a wide range of formats and styles within the 'Nihonga' movement. His work in sheet-prints is relatively limited apart from his contribution to 'Nihon fukei hanga' (1987, 0316, 0494), but his early illustrated book 'Fuji isshu' ('A Tour of Fuji') of 1907 is now much admired. He was also a notable poet in the 'waka' form.
Conditions:
Some foxing, in general good conditions.